Helpful and Recommended Products

"Medicine Mama proudly introduces the first intimate wellness cream that not only moisturizes, but soothes and heals intimate skin. Vmagic contains organic ingredients known for their anti-bacterial and anti-fungal properties, as well as Sea Buckthorn, which aids in the repair and care of tender tissue."
Our patients have shared this product with us and asked us to pass this along! This cream is very helpful for vulvodynia, vestibulitis, and other genital skin ailments. This cream is also organic! Be sure to check ingredients for possible allergens and other sensitivies you may have, such as pollen and bee products.
1 fluid ounce / 30 ml
Made in Switzerland
Irritant Free
Tested by leading gynecologists in clinical studies, Neogyn is a non-medicated cream to help soothe the vulva and relieve discomfort. The cream is free of estrogen and is easily applied to the vulva. Formulated with cutaneous lysate, this biotechnologically derived blend of soothing components was discovered in Switzerland after years of wound healing.  The properties of cutaneous lysate have been shown to help restore skin that is thin or irritated.
With daily use, Neogyn Vulvar Soothing Cream helps restore vulvar comfort and well-being.
Neogyn is recommended by leading physicians and women's healthcare professionals in vulvar discomfort and sexual dysfunction.
Neogyn is gentle and is free of parabens and propylene glycol, frequently found in feminine care products, which may cause irritation. The cream does not contain anesthetics or analgesics (e.g.: lidocaine, benzocaine) which may dull sensation. It is free of color additives, fragrances, petrolatum and mineral oil.
                                              
A message from the designer/creator:  "As a former Endometriosis sufferer who has Pelvic Floor Dysfunction, I wanted to design a natural, organic heating/cooling pad that would target the entire pelvic floor region from the pubic bone to the tail bone simultaneously.  The pad'sshape and ultra soft fleece fabric provides therapeutic benefits allowing the pelvic floor muscles to relax.  The pad can be either heated or cooled, depending on personal choice.  I wanted to create a pad that was highly effective, affordable, and served a dual purpose all at once!"  (Babette Gray)
Key Features:
Void of cumbersome electric cords, sticky adhesive, herbs that bring on sensitivities or gel that may burst.
Shaped like the patented EndoFEMM® Pad to conform to the tummy and hips with the addition of a bottom compartment portion to provide hot/cold therapy to the pelvic floor to ease IC, Vulvodynia, Chronic Prostatitis, etc.
The compartments starting at the pubic bone extending past the tail bone provide hot or cold therapy naturally using nothing more than whole flax seed that will not slip due to reinforced individual sections.
Provides an ultra cushy feel similar to memory foam at the pelvic floor and tail bone.
Pad is constructed of soft, breathable fleece that is wonderful against the skin.
Belts are made from soft fleece and hold pad in place with two 6-inch Velcro strips on each side of the waist so you can grab, lock down, and go–whether standing, walking or laying down.
Accommodates waists measuring 26 inches to 42 inches.
Custom sizing available (just ask!)
Colors.  Available in Jet Black microfleece, Plum or Teal fleece.
Allergen Information: This product does not contain any allergens.
As gentle as it gets.
Cetaphil® Gentle Skin Cleanser is great for daily makeup removal. Originally formulated for dermatologists, this cleanser is gentle on your skin and sensitive to your skin's needs. Cetaphil® Gentle Skin Cleanser will not strip the skin of natural protective oils or emollients, or disturb the skin's natural pH balance. This dermatologist-recommended cleanser is fragrance-free and non-comedogenic. Cetaphil® Gentle Skin Cleanser is gentle enough for children, teens and adults.
We have found that this cleansing agent is comfortable and recommended for use in the vulvar and labial region:
Cushions for those with sitting pain:
We recommend several cusions depending on your health issue.
This waffle cushion is best for patients with pudendal nerve problems. 
Many IC patients find they can eat a larger selection of food and drinks without the severe urinary symptoms by using Prelief.
Simply a better product: These medical-grade dilators are smooth and comfortable, easy to control, light-weight, and safe.
Medically Safe & Convenient
Each set includes five graduated dilators, universal easy-grip handle, lubricant, and soft cotton carrying pouch with care instructions. A silky-smooth finish ensures maximum comfort while the gently curved shape eases entry and transition up in size. Convenient handle improves insertion control while keeping lubricant off one's hands. The product is medically safe for individual use (see your doctor for more information) and easy to clean with soapy water. For storage portability and privacy, dilators fit one inside another forming a convenient, small package.
NOTE: Our new, smallest dilator is narrower than a tampon. This size is particularly suited for women who have difficulty with tampon insertion and also helps to assist with a smooth transition to larger sizes.
Despite the silly name, this product is water based, water soluble, safe, hygienic, odorless, non-staining, and long lasting. Patients have found that it is very helpful.
Commandos – Underwear and thong replacement for women with pelvic pain
---
We asked Commandos for some samples before we agreed to endorse their product. Dr. Echenberg couldn't keep them in the office! And women have been raving about them ever since!
Women who experience pelvic and sexual pain often can't bear the pressure of underwear. And thongs are out of the question!
But what do you do when you don't want pantylines to show or you just need the protection underwear offers without the constriction or wedgies?
The ideal solution is Commandos, a revolutionary, uniquely-shaped, COTTON disposable patch that safely sticks in the curved seam of your jeans & pants so you can go underwear free in cotton comfort protection.
COMMANDOS is the perfect alternative for women with such issues as vulvodynia, interstitial cystitis, fibromyalgia, pelvic pain, endometriosis, myofacial pain syndrome, irritable bowel syndrome, yeast infections, vulvar vestibulits, vaginal irritation, pudental neuralgia, and pelvic floor dysfunction.
Patches are easy to use; you just stick them to the inside of your pants, and then throw them away at the end of the day. This is a company that also cares about the community. The envelopes in which they are packaged is made from 100% recycled paper.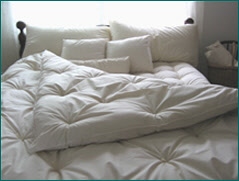 I want to introduce you to this wonderful resource. When I was in my worst acute stage of pain- when normal bedding even bothered me I bought an underquilt (topper) and an overquilt from this company. And several pillows.  his woman raises her own sheep and manufactures all the wool and bedding out of her home facility. The covers are made out of organic cotton, and all made in the USA.  There are no zippers, or buttons- all made with ties and the bedding is filled with pressure free wool. The quality is amazing and she even has managed to help patients with pain conditions have these products covered by insurance.
Here is the website:   http://www.surroundewe.com/
---
*We receive a small royalty on some of the recommended products, which is used for maintenance of this website.